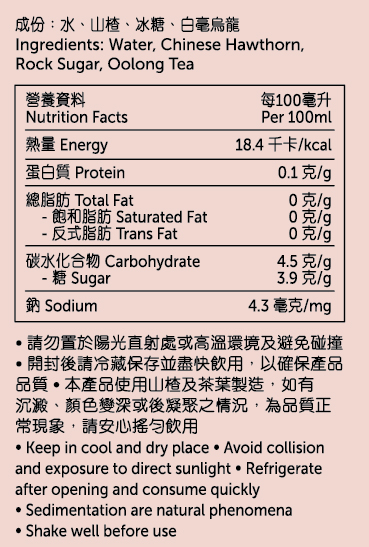 Chinese Hawthorn Tea
---
Ingredients: Water, Chinese Hawthorn, Rock Sugar, Oolong Tea
FOR WEIGHT LOSS
Chinese Hawthorn – Stimulates appetite and aids digestion
Rock Sugar – Nourishes lungs and promotes fluid production
Oolong Tea – Aids digestion and burns fat
Aids weight loss and improves fat-burn, regulates qi to enhance blood flow. Suitable for indigestion, dull complexion, skin discoloration and chubbiness.
Keep in cool and dry place. Avoid collision and exposure to direct sunlight.
Refrigerate after opening and consume quickly.
Sedimentation are natural phenomena. Shake well before use.
*This tea is sour in taste. Those with stomach acid reflux and are prone to stomach pain and discomfort should not drink on an empty stomach.
**Suitable for drinking before menstruation; not suitable for pregnant women and women during menstruation.
Aseptic Cold Fill. No Preservatives. No Artificial Coloring.
Manufactured in: Taiwan
Best Before:24 Mar 2024