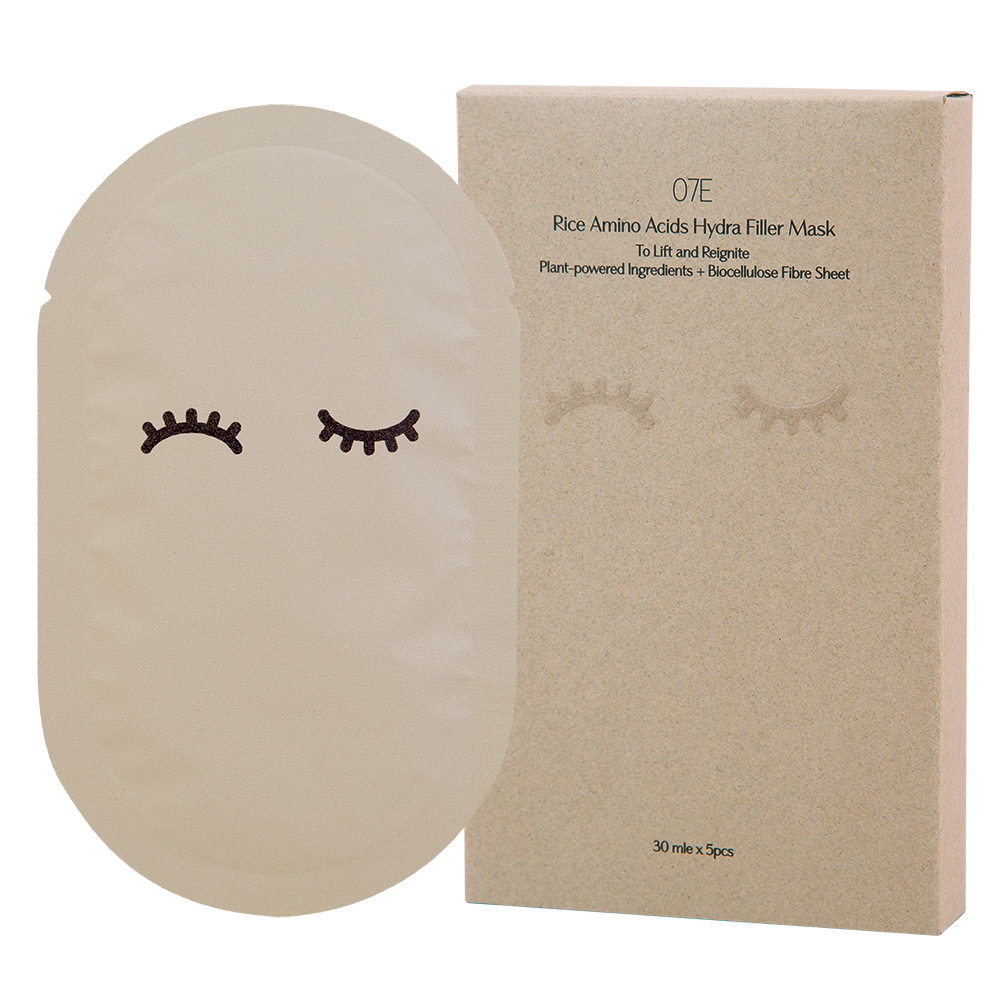 07E Rice Amino Acids Hydra Filler Mask
---
CheckCheckCin and Skin Need have joined hands to create a rice-infused collection of therapeutic grade and skin conditioning masks series to achieve naturally youthful and fresh-looking skin.
To Lift and Reignite
Plant-powered Ingredients + Biocellulose Fibre Sheet
Skin Icons:All | Lines | Sensi
An artful formula rich in powerful and high-tech ingredients such as antioxidants, amino acids and peptides. Target to defend skin against harmful pollutants, UV radiation, stressors, and oxidizing factors, the Hydra Filler Mask is packed and powered to induce skin firmness, combat oxidation, reduce inflammation, and effectively protect the skin from external ageing factors.
Active ingredients and major functions:
Rice Bran Extract – abundant in anti-oxidants such as Vitamin E, Oryzanol, Ferulic Acids…etc to defend the skin against oxidizing factors; also rich in polysaccharides, omega-3 fatty acids as well as micronutrients such as zinc, calcium and selenium to support healthy skin metabolism
Snow Algae Culture – native to the Alps and found to protect and activate longevity factors in skin cells; prolongs cellular vitality and thereby enhancing the skin's youthful conditions
Ginkgo leaf extract – obtained from leaves of Ginkgo Biloba from Spain; rich in flavonoids and ginkgolides (A, B, C, and J) well-known to lipolytic and reepithelizing effects; initiates skin renewal and promotes anti-inflammatory functions
Active Ingredients: Aloe Vera Leaf Juice, Abyssinian Oil, Rice Proteins, Ginkgo Leaf Extract, American Ginseng Extract, Bulgarian Rose Hydrate, Mixed Molecular Weights Sodium Hyaluronate, Resveratrol Extract, Snow Algae Peptides, Anthocyanins, Hexapeptides, Vitamin E.
Directions:
Use any time of the day as needed. Dispense serum from mask sachet and smooth in an upward circulation direction onto cleansed face. Remove mask sheet from sachet and apply onto skin for 15-20 minutes. Massage using gua-sha tool and remaining serum as needed. Remove mask sheet, wipe off using damp cotton, and follow with your normal skin care routine.
Please store in dry and cool place.
Caution:
For external use only.
Avoid contact into eyes.
Keep out of reach of children.
Patch test before use. In the unlikely event of skin sensitivity, rinse away with lukewarm water and consult a physician.
Made in USA
$420/5pcs (per box)|30ml (per piece)